Hacker-Pschorr | 2013-2014
Hacker-Pschorr is a brewery in Munich, formed in 1972 out of the merger of two breweries, Hacker and Pschorr. Hacker was founded in 1417, 99 years before the enactment of the Reinheitsgebot Purity Law of 1516. As one of six breweries located within Munich's city limits, its beers are among those served at Oktoberfest. As part of the Paulaner USA family of biers, they were looking to increase the Hacker-Pschorr name, especially in the exploding craft beer conversation. We figured a brewery that has been around for more than 300 years would have plenty to contribute.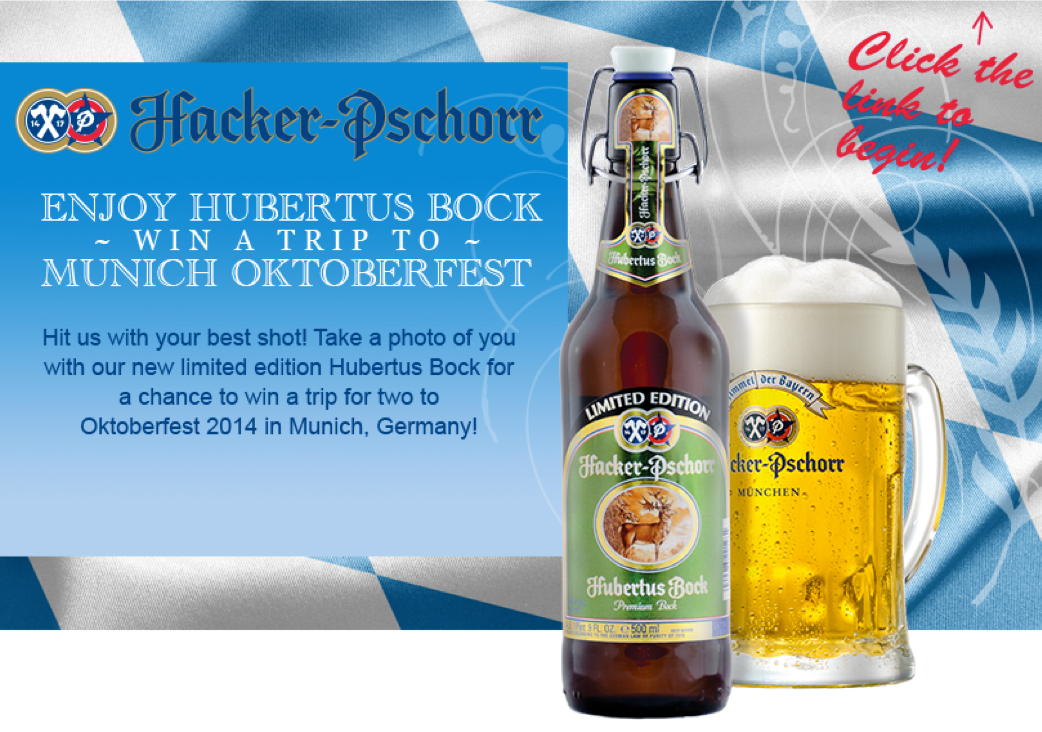 Limited Edition Hubertus Bock
In 2014, Hacker-Pschorr launched four Limited Edition biers, the first being the Hubertus Bock. To celebrate the release of the Hubertus Bock, we developed a campaign encouraging fans to share their favorite Hacker-Pschorr Hubertus Bock moments. The first promotion of it's kind for the brand in the U.S., Hacker-Pschorr offered fans a chance to experience the official Oktoberfest in Munich, Germany first hand by simply sharing their favorite Hacker-Pschorr moments.
Has Your Oktoberfest Been to Oktoberfest?
For Hacker-Pschorr's 2014 annual Oktoberfest contest we developed a photo contest encouraging fans to share their best Oktoberfest photos for a chance to win a trip to Oktoberfest in Munich. We provided daily community management and conversation by contributing and sharing owned content, supported by a 90-day paid media placement.
Himmel der Bayern
The Hacker-Pschorr brewery has been mentioned in history as early as 1417. This brand is supported worldwide and has become an expression of German culture across the globe. In the United States, we see regions like the Mid-West, Northeast and Great Lakes that are packed with German heritage and tradition. Born in the Mid-West and lived and studied in Germany, the Hacker-Pschorr brand will always have special meaning for me and the chance to live the authentic Oktoberfest experience for myself will forever be one of my fondest memories. Prost!
Team
Nick Williams: Content & Social Media Manager, Diffraction Media
John Gilbert: Creative Director, LRXD
Sheena Belcher: Account Manager, Digital Fusion
Catherine Parenteau: Director of Marketing, Paulaner | HP USA
Charles Stanley: Brand Manager, Hacker-Pschorr & Fuller's USA